REFLECTIONS OF BROWNIE
World class drummer Rayford Griffin's tribute to his uncle, the late great trumpeter Clifford Brown. Blending the old with the new, this contemporary jazz offering re-imagines and updates the Clifford Brown classics and other titles from the hard bop era. By Chris DiGirolamo, TwofortheShowMedia.com
The latest tribute is a touching album by one of Brown's nephews, Rayford Griffin, an accomplished drummer who works with Stanley Clarke and Dave Koz. Griffin's album is unique in that it pays tribute through re-invention. – By Brian Zimmerman, DownBeat.com
The fiery performances are climaxed by Brown's composition "Joy Spring" and a dazzling series of solos that pay tribute to the maturity of Brown's compositional integrity. Overall, Rayford Griffin does his uncle proud and after hearing Reflections of Brownie, you will smile that proud smile too. – By Paula Edelstein AXS.com
Download @cdbaby http://bit.ly/1JoNqAy
DownBeat Review: http://hyperurl.co/8drim0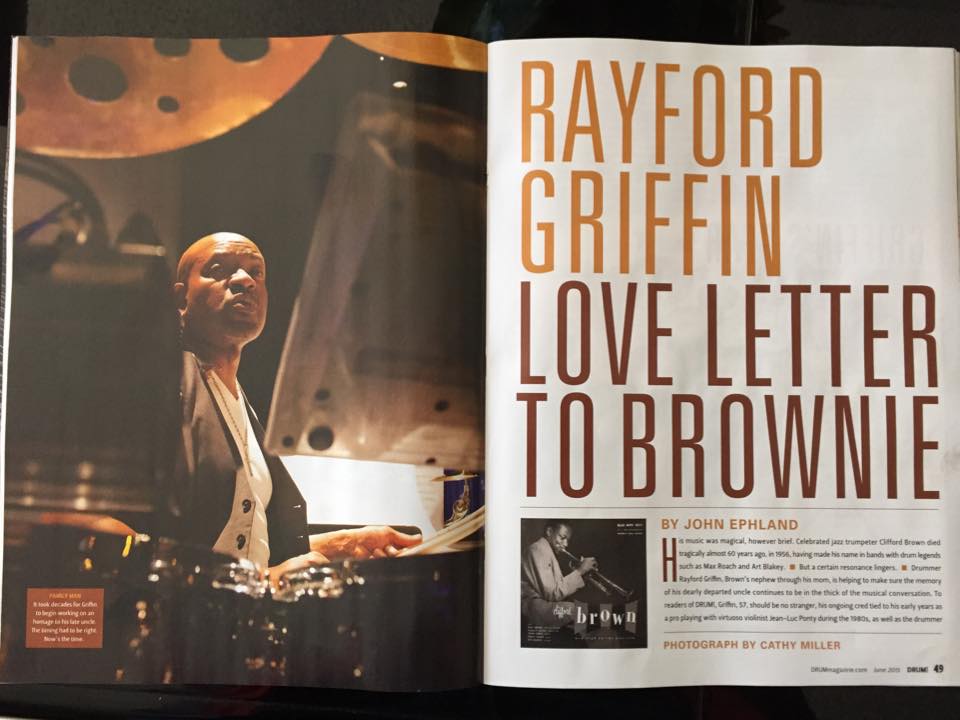 For all that are interested, don't miss the June issue of ‪DRUM Magazine page 48‬ – on news stands now.‪
There's a lot to said for coming to the completion of a project, especially when it's a labor of love. I started this project sometime ago and it's very, very personal to me….as a result, a funny thing happened in the studio one day.
I was in my studio tracking the inimitable Roy Hargrove on the song Cherokee. Roy was doing his thing on a take as only he can do when all of a sudden he hit a note and held it with a slight vibrato. I don't know what he was thinking about when he played that note, but no sooner than he hit it I began to cry…. Yeah, tears streaming down my face. It was as if my Uncle Cliff was riding that note. Like he showed up and put his hand on my shoulder to say  "good job nephew".
These recordings were made with the help of some very talented individuals the likes of. Roy Hargrove, George Duke, Brian Bromberg, Rick Braun, Micheal "Patches" Stewart, Nicolas Payton, Phillipe Saisse, Everette Harp, Doug Webb, Dan Lutz, Ian Martin, Barone Brown, Hanz Zermuehlen, Kieth Jones, Micheal Hunter, Bobby English, Clifford Brown Jr. & Clifford Brown lll.
I believe music is emotion expressed and that we should be deeply affected, and liberated by it. So with that being said I'm happy to present for your perusal my "Reflections Of Brownie". I hope you gain as much enjoyment in listening to it as we all did in creating it.
Peace & Blessings,
Rayford G.